PG Exhibits Awarded Best of Show for a New Exhibitor at EXHIBITORLIVE 2015
Award acknowledges PG Exhibits' continued growth and expansion in the Tradeshow Exhibit Industry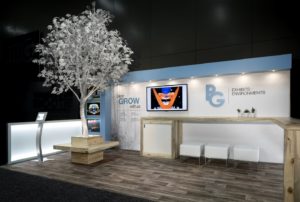 Aurora, Colorado – March 10th, 2015— PG Exhibits' Tradeshow exhibit was recently voted the Best of Show for a New Exhibitor at the EXHIBITORLIVE 2015 event held in Las Vegas. PG Exhibits created a memorable campaign with a "Come Grow With Us" message. PG created a dynamic 16 foot tree as the centerpiece of the exhibit which drew attendees into the exhibit space. Once engaged, attendees then received PG branded seed packets of Rosemary and Thyme to reinforce the "grow with us" campaign.
"We are very excited to receive this award as it is the result of the PG Team creating a truly unique story that was recognized by over 20 industry veterans who attended EXHIBITORLIVE 2015. It is a testament to the consistent creative excellence of our design team," commented Jim McGrath, President, PG Exhibits.
PG Exhibits provides tradeshow exhibits and complete show services management to various companies in multiple vertical markets. Some of the upcoming tradeshows PG Exhibit's clients will be exhibiting at include: HIMSS, NAB, NRA, Sapphire, Ignite, GIFA and OR Summer.
About PG Exhibits
Our philosophy is to be THE BETTER EXPERIENCE. From award winning design to flawless fabrication and hands on account management, PG strives to exceed the expectations of its clients. PG's goals are to deliver superior design, unique marketing environments, and seamless event management to effectively communicate our client's message. Headquartered near Denver, Colorado with satellite facilities across the country and international capabilities worldwide, PG Exhibits can manage all your needs. THE BETTER EXPERIENCE is what drives the PG team to do its best every day. For more information about PG Exhibits, visit us at www.pgexhibits.com.
For Media Inquiries:
Larry Graziani
Vice President of Sales & Marketing
larry@pgexhibits.com
720.416.7272